How to cancel the subscription and request a refund
Important: All subscriptions are renewed automatically unless they are canceled at least 24h before the last day. Deleting the app or purchasing a different subscription will not help cancel automatically any existing subscription you have.
I. For ELSA Pro in-app subscriptions purchased from Apple/Google:
Cancel and refund instructions for Google Play:
Here are the Terms and Conditions for Google where you can find out more about the auto-renewal function.
Click here to learn how to cancel your automatic subscription
Click here to submit a refund request to Google.
2. Cancel and refund instructions for Apple:
Note: All key registration operations in your application can only be performed by you
II. For ELSA Pro in-app subscriptions purchased from ELSA Website:
Cancel the subscription:
If you are in the trial, please send us an email at [email protected] with your ELSA email account to request to cancel the subscription.
If you are in an active subscription, open the ELSA receipt (send it to your email ELSA account) and click on "Manage subscription" to cancel. If you cannot find the receipt, please contact us.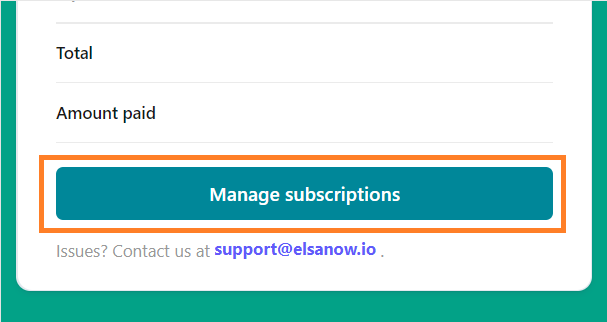 2. Request a refund:
Please contact us at [email protected] with the following information for further assistance with canceling the subscription and refund requests.
+ Your email account
+ Receipt of payment
+ Reason (for refund request)
Please note that all charges for purchases made through the ELSA website are refundable by ELSA if buyers submit the refund request within seven days of purchase. You can check out our refund policy here
What will happen when a subscription is canceled?
You can continue using the subscription until the day it expires.
The subscription will end on the last day and will not renew.