ELSA AI feature
What is the ELSA AI?
ELSA AI is powered by proprietary speech recognition technology and informed by one of the world's largest accented datasets. This new voice-enabled capability will showcase the power of generative AI in language education.
ELSA AI Tutor will act as your very own Conversational AI tutor: One that allows users to speak in free-flowing, spontaneous, and engaging real-life conversations on any topic or scenario.
You will then receive tailored feedback across multiple dimensions on your English speaking proficiency. These include pronunciation, vocabulary, grammar, rhythm, and more.
1. What is the meaning of ELSA AI status?
ELSA AI has 5 statuses: Online, Offline, Thinking, Listening, and RolePlaying.
| | |
| --- | --- |
| | It shows up with a green dot indicating that the ELSA AI is working fine |
| | It shows up with a gray dot indicating that the ELSA AI is not working and you cannot use it |
| | It shows ELSA AI is thinking to respond you |
| | It indicates that ELSA AI is waiting for your response |
| | It indicates that the game has started |
2. How to use ELSA AI?

ELSA AI has 5 options with different scenarios. To start role-playing, tap one of the five options (4). Or you are able to click this button (3) to start recording.
Specifically, create my own scenario option will allow you to start a conversation based on any topic you require. Feel free to ask ELSA AI any questions you are interested in.
*You will have 45 seconds to record your response
Other functions:
It allows you to type your response by clicking this button instead of speaking as usual.
ELSA AI will give you some canned responses. You could select or speak your response based on the available suggestions .

*Swipe left to see more suggestions
Click this icon to see some of the tips we have for you.
3. How to find the translation?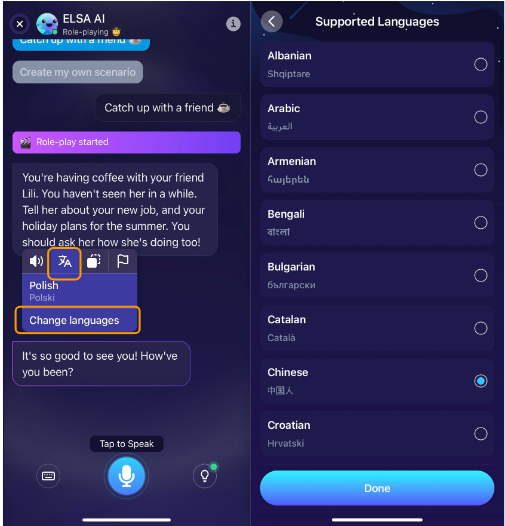 ELSA AI supports 42 languages. Press the sentence you want to see the translation, then click the translation icon. This change will not affect the native language you have set for your account in the settings.
4. Assessment result
After you complete the conversation, ELSA AI will give a result including four parts: Overall feedback, Pronunciation, Vocabulary, and Grammar. The assessment result will also have some tips to improve your English skills.