How to sign up for an account?
Open the ELSA Speak app → Tap "Start" → Let's discover how ELSA works → Select the native language→ Select the pronunciation level → to select your preferred time for ELSA to send you a push notification as a reminder to practice your English → Tap "Next" to go to sign up screen.

Then choose your preferred sign-up option: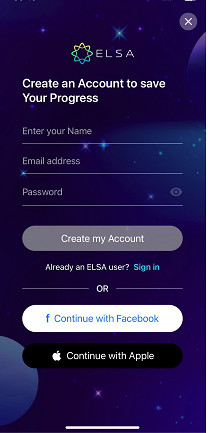 At the sign-up phrase, there are two options:
Option 1:  Sign up with Facebook: Log in to your Facebook account → Tap "Continue"
Option 2: Sign up with Email: Fill in your email and set a password for your ELSA Speak account → Tap "Sign up" (ELSA encourages users to register with an email account for better account management)
Option 3: Sign up with your Apple ID: click to "Continue with Apple" → Tap "Sign up" (only available for iOS)
If you would like to create an ELSA account on a PC/ Laptop, please access this link and back to the application for usage.
Please watch the video on how to sign up for an ELSA account