Leaderboard
Leaderboard helps you be more motivated when practicing, you can compete with other learners all over the world to improve together.
There are 10 different tiers of Leaderboards (leagues). When joining the leaderboard, all users will start from Tier 1 and finish in Tier 10.
Leaderboard runs on a weekly basis and will be reset every Sunday at 23:59(GTM+7). After the reset, each user can either move up to a new tier, stay in the same tier, or be demoted to the lower tier.
You will always begin the week with no points and no rank. The entry condition is completing at least 1 lesson per week. Choose any lesson in the app to begin the competition. The weekly points will be updated after completing each lesson.
How to earn points?
1. Complete a lesson:
1 star = 5 points
The user completed the lesson at first time = 5 points.
The maximum number of points for a lesson are 20
Replaying lessons will only grant points if the users improves on the previous star score. The user will receive 5 points for each additional star the user earns, but the lesson will not grant points again for playing the lesson.
2. Streak: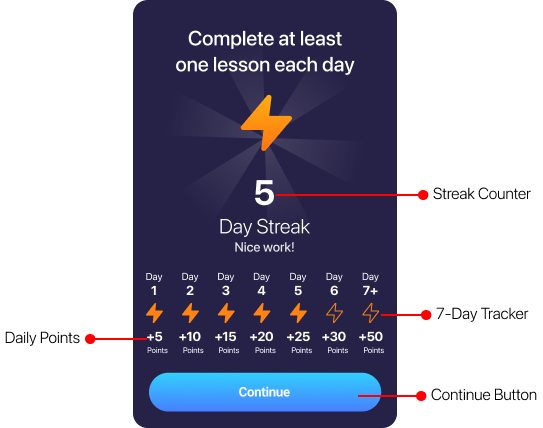 5 points on day 1
10 points on day 2
15 points on day 3
20 points on day 4
25 points on day 5
30 points on day 6
50 on day 7+ (maximum reached, the user will get 50 points for each streak higher than 7)
3. Daily Goal:
50 points for 10 minutes
75 points for 15 minutes
100 points for 20 minutes
When the weekly competition ends:
After the weekly competition ends, users will be promoted to higher tiers, demoted to lower tiers, or remain in the same tiers depending on the results.
Promotion / Demotion happens for all users at the same time when the weekly competition ends.
Top 5 users will be ranked up to a higher league
The position 6-25 will remain in the league they played in.
The bottom 5 users will be downgraded to a lower league.
How to disable the leaderboard:
Go to your profile settings > Learning & Sound Settings > Turn off Competitive Mode.