Why is my account still free after I purchased a membership?
Ensure the payment was made successfully and you received a receipt. If your ELSA payment is marked as 'pending' on your bank statement, it might not have gone through successfully. When you submit a payment, your bank puts the funds aside as 'pending'. If the payment fails, the pending status will expire and the funds will be returned to you.
1. Try to re-install and log in to the correct account you used to purchase.
You might have signed up to ELSA with a different account.ELSA allows accounts to be created by Email/ Facebook/ Apple ID. Try to log in using different credentials to find your account.
If you purchase the subscription on a Guest account (accounts without email registered), please follow the instruction here.
2. Go to Profile -> Account Name-> Restore Purchase.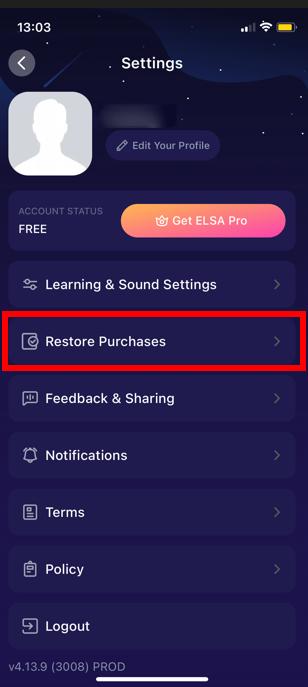 3. Go to Profile -> Account Name -> Edit Your Profile -> Mother Tongue (You can switch back later)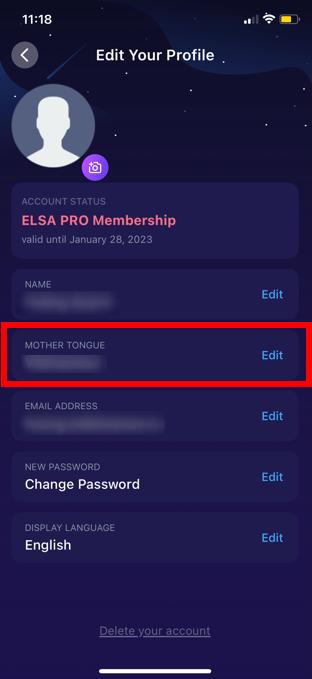 4. If the problems still exist, please contact us at [email protected] including your receipt of payment and user ID
Your receipt of payment:
Subscribed by an iPhone: please find the Apple receipt in your Apple ID email.
Subscribed by an Android: please find the Google receipt in your Gmail.
Subscribed from our website: please find an ELSA receipt/ PayPal receipt in your email inbox.
Your user ID:
Go to Your Profile and tap on the Account name icon
Choose Feedback and Sharing
Choose to Copy the User ID to the clipboard
Open your email and paste the user ID to the email and send it to us.